At 10 a.m. on 9 August 1965, this is the day when Prime Minister Lee Kuan Yew announced Singapore's independence from Malaysia. Radio Singapore interrupted its regular programme to broadcast this announcement. Later that day, in front of television cameras, he announced again that Singapore was no longer a part of Malaysia and was now an independent and sovereign nation.
Significance
Singapore's independence was an important moment in its history. It marked a beginning of a new phase in Singapore's development and the people's lives. Singapore then became a republic with Yusof Bin Ishak as the first president. The Singapore government, with former Prime Minister Lee Kuan Yew as the leader, was now responsible for every area of administration.
However, not everything was going smooth for Singapore after its independence. It faced many types of challenges and mixed reactions from people around the world.
Challenges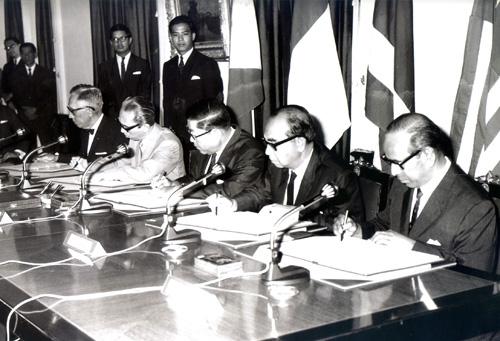 Security
Singapore faced many challenges when it got its independence. One of the main problems was Singapore's security, both external and internal security.
External Security
Instability in Southeast Asia threatened Singapore's security. To solve this problem and bring about understanding and cooperation among the Southeast Asian countries, Singapore, Malaysia, Thailand, Indonesia and the Philippines formed the Association of Southeast Asian Nations (ASEAN). Singapore also formed close ties with other counties in the world. This helped Singapore when Indonesia launched the policy of Konfrontasi and bombed Singapore. Having good relationships with other countries also made Singapore have a lesser possibility of getting attacked during a war. It also made sure that Singapore had someone to rely on when it got attacked.
Internal Security
At that time Singapore also had a very small army with two full-time army battalions, which were made of about 1000 soldiers. Singapore's navy was only made of two old gun boats and did not have any air force.Britain's decision to withdraw its military forces in the mid-1970s. This meant that Singapore had to replace 26,000 British soldiers. The lack of a strong defence force would also affect Singapore's economic development. This was because security and stability in Singapore were important to attract foreign investments, and to promote the growth of its industries. It was thus urgent for the government to build up the defence of Singapore quickly. The government took its first step toward building Singapore's own defence force by establishing the Ministry of the Interior and Defense (MID) in October 1965. Dr Goh Keng Swee was its first Mistier. Dr Gog Keng Swee, as the first a Minister of the MID, had strengthen the armed forces quickly. He also recognised that every man in Singapore had to play a part in the safety of Singapore.
Economic
The next problem is on Economic survival. Singapore was a small country without any natural resources. Therefore, Singapore was unable to rely on the export of natural resources to develop  economy and also provide jobs for people. After Singapore gained independence, Singapore faced more economic challenges, worsening the current situation.
Firstly, Singapore's tense relations with its neighbours threatened to affect its economy. In addition, Malaysia had been the main market for goods that were manufactured in Singapore. After separation between Malaysia and Singapore, Malaysia imposed more tax on these goods. This was an attempt that Malaysia did to protect its own industries. This attempt hindered the development of industries in Singapore.
Secondly, Singapore was unable to depend solely on entrepot trade for economic development because trade slowed down due to policies implemented  in other countries that restricted imports of foreign-produced good. Therefore, Singapore needed develop a diversified economy to ensure continuation of economic growth.
Thirdly, Singapore experienced severe unemployment and this situation worsened every year. Thus, new jobs were created for people. Lastly, Britian's decision to withdraw its military forces by the mid-1970s threatened to worsen unemployment in Singapore as as British military forces contributed greatly to Singapore's economy, Singapore needed to find new ways to improve Singapore's economy.
Sense of Belonging
Another challenge what Singapore faced is that facing setbacks as a new nation, forging of a common identity and sense of belonging among people. People had to make decisions pertaining to citizenship. Thus, the government urged foreigners, especially Malaysians, to take up Singapore citizenship.
Reactions
Many people have different reactions regarding Singapore's separation from Malaysia. Prime Minister Lee Kuan Yew was extremely sadden by the fact that Singapore separated from Malaysia. "Every time we look back to the moment we signed the separation document, it is for us a moment of an anguish." This shows that Mr Lee Kuan Yew did not wish for the separation to happen.
Minister for Culture and Social Affairs, Mr Othman Wok however, was elated with the news of the separation. "We were all very surprised. But in my heart I said, 'That's the best news I have heard so far."This shows that Mr Othman Wok is happy about the result of separation.
Minister for National Development and Minster of Law, Mr E.W Barker had neutral feelings towards the separation. "It was just 'Alright, we agree to separate.'"He feel that the separation was needed and agreed on. Thus, Mr E.W Barker was neutral about the Singapore's separation from Singapore.
Reactions of the Local People
One student was sad about the separation as "it would be difficult to go to Malaysia, a place that I liked to visit.". It shows that she was unwilling to accept the separation. Another student, was neutral about the issue. She "was not aware of the political issues then.".
One of the locals under normal working class, was concerned and sad when the news broke out because he "had tried so hard to make Malaysia work. To me, separation was an admission of our failure.". Moreover, "our island-state had no natural resources and had the future disadvantage of having a small population and therefore, a small market.".
An editor of The Straits Times, was shocked when delivered the news. "Although there had been signals that things were not going well, the actual separation was not anticipated because, despite all the tensions, it seemed as if the leaders were still trying to settle the conflicts.". A newspaper report on the announcement of Singapore's independence has also said that "though some housewives began to stock up on food, and some shops were closed for the day, the atmosphere, while tense, remained quiet. Coffee stalls did a roaring business. Many stayed open all night, catering to customers who wanted to talk about this turning point in their national life- or wait for the morning papers to hit the street.".
One of the civil servants felt that the separation was very disappointing as he felt that the future had no hope" as there were "no economic resources in Singapore, all we have are our skills.". This shows that he was not pleased with the news. A lecturer was in sheer disbelief when the news broke out. He "felt a sense of loss and sadness because people suddenly found themselves separated by a political divide". On the other hand, an aide-de-camp to President Yusof Bin Ishak, had no reaction to the news. He "took the live that life must go on and that I would remain In Singapore and work towards its survival, security and success"and"was not particularly nationalistic".
Reactions of Leaders and the Media in Other Countries
Malaysia Prime Minister Tunku Abdul Rahman is nonchalant with Singapore's separation from Malaysia. "I hope and pray that on their own, they will be able to find what they want." and "give them our utmost help". This shows that he is reluctant.
Australia had strong trade connections with Singapore since the colonial period. Thus, Australia was worried that Singapore would be unable to handle the challenges that it encountered after achieving independence, thereby affecting trade. Australian Prime Minister Sir Robert Menzies felt rejected about Singapore's separation should be regarded as the beginning of a new approach of working together to promote their common interests. " In one of Australia's newspaper, the Sydney Morning Herald, they had written in an article that an independent Singapore was not regarded as possible three years ago. The conditions  in Singapore today remain unchanged and the survival of Singapore is questionable""
British Prime Minister Sir Harold Wilson was disappointed with Singapore's separation from Malaysia. However, he had recognised Singapore as an independent state and was glad to know Singapore wanted to work on terms of friendship with them. He had also wished Singapore well.
In conclusion, some people were not overly concerned about the news of separation, some expressed a sense of loss over the separation of Singapore from Malaysia while others were glad it happened. Singapore also faced many different types of challenges and were also anxious about Singapore's ability to survive on its own but was able to find solutions to cope with these challenges.
Done by: Wen Xin, Jing Hui, Roshan, Harman and Jasper